The first Chinese 3D printing wire saw machine came out
The latest achievement of the 3D Printing Wire Saw Machine developed by Kanghua company and Guilin Electronics University is based on Kanghua actual 55KW wire saw machine by using the latest 3D printing technology at 1:100 ratio, which solves the problem that many companies is difficult to carry equipment to participate in the overseas exhibition. As we all know, overseas exhibition has always been one of the main ways for many small and medium-sized enterprises in China to go abroad. To solve this problem, Kanghua has finally taken a solid step through hard work, which means that the mining wire saw machine can be manufactured with 3D printing technology in the future.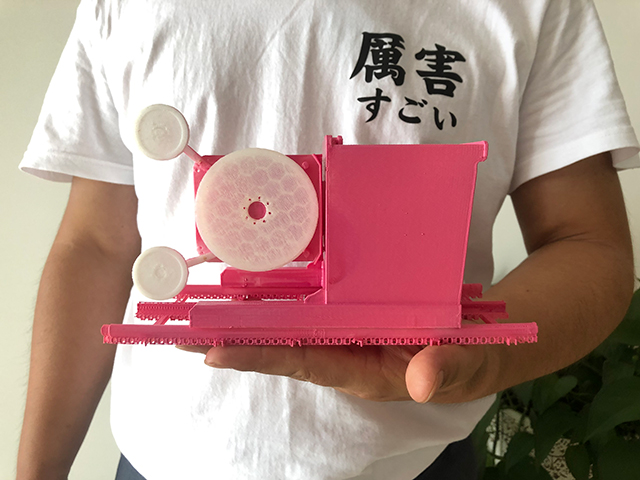 Kanghua fifth generation wire saw machine Power-Saving Master
Kanghua has been in business for 28 years. The original Kanghua mainly engaged in EDM processing, doing some processing parts business, and gradually grew into a professional manufacturer of large-scale mining wire saw machines. Due to the accumulation of processing parts and other services, Kanghua wire saw machine has developed to fifth generation wire saw machine with its own patents. The latest fifth-generation wire saw machine has used the permanent magnet synchronous motor known as "the future of electric motor". At the same time, it is equipped with a permanent magnet synchronous driver, which makes the performance of the machine rise sharply and also has the function of energy saving and environmental protection. The fifth-generation wire saw machine is known as Power-Saving Master. How much power saving does it could?
We made a comparison with the fourth generation LKH55 kW wire saw machine and 55 kW power-saving master, the power-saving master can save 25% of electricity costs. Compared with the forth generation LKH 55 kW wire saw machine and 45kW power-saving master, the power-saving master can save more than 40% of electricity costs. Maybe you think that I am exaggerating, how do users judge? Observe the change in current displayed on the console after smooth cutting. The smaller the current value, the less power is used. In addition to energy saving, permanent magnet synchronous motors have several advantages: higher output power, higher rotational speed and greater torque.
Higher output power
Kanghua made a recommended pull test: a fourth generation LKH75kw wire saw machine was pulled against the 55kw power-saving master. Finally, 75kw is rotated by 55kw.
Higher rotational speed
The power-saving master 6P has reached a speed of 1000 rpm, and the average model has only 960 rpm, which means that the power-saving master cutting speed will be faster when running smoothly.
Greater torque
The greater the effort, the shorter the start-up time to smooth running time.