High Quality Wire Saw Cutting Machine for Quarrying
The details of high quality wire saw cutting machine for quarrying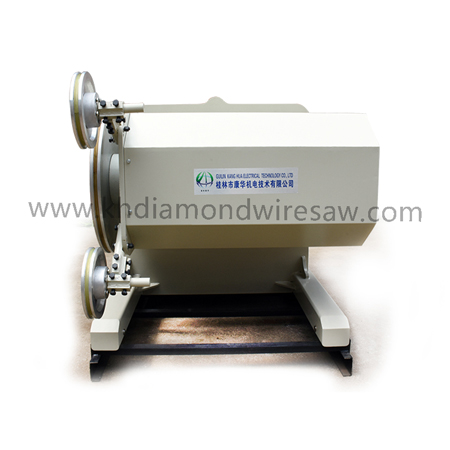 Place of Origin:Guangxi,China (Mainland)
Brand Name:KANGHUA
Model Number:LKH
Voltage:380V
Weight:2400kg/2600kg/3300kg/3800kg
Color:Orange/white
Type:Stone Cutting Machine
Function:quarry stone block
Main motor power:37kw/45kw/55kw/75kw
Rated rotation speed:800rpm
Length of wire saw:20-150m
Linear speed of wire saw:0-40m/s
Feeding speed of machine:0-40m/h
Diammeter of flywheel:800mm
Maximum cutting distance:1800mm-2200mm
Certification:ISO
Warranty:1 Year
Production Capacity:100%
Control:permanent magnet syncronous drive and double PLCs
After-sales Service Provided:Engineers available to service machinery overseas
The description of high quality wire saw cutting machine for quarrying
Wire saw cutting machine for quarrying is an equipment using the diamond wire saw for cutting, its cutting speed can be very fast and the efficiency is high. It mainly apply to stone quarrying, concrete cutting and metal cutting. It has been ugraded to permanent magnet synchroous driver, text display, communication transmission and dual PLCs control combination, with the dual operating system and exclusive patent Double-surpported Rotary Reducer, which is the first in the industry.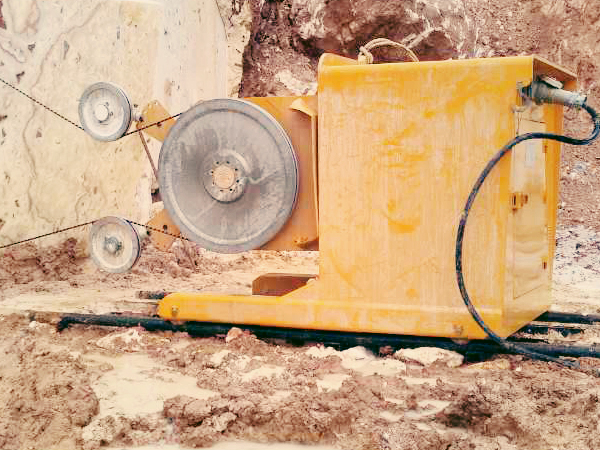 In the past,the technology was underdeveloped.Many miners used the traditional methods like blasting,hydraulic fracturing,and expansion to quarrying,which have the disadvantages of unsafety,environmental pollution,low yield and great loss and so on. The emergence of wire saw cutting machine promote the development of the quarrying industry. Wire saw cutting machine is more safer,high output,high yield,low quarrying cost,and environmental protection for quarry stone,and it is a technological revolution in the quarrying industry.
The features of high quality wire saw cutting machine for quarrying
(1)Slewing Reducer with Double Support--Power head never moves down;
(2)Integral Sealed Bearing--More than 2 years working life;
(3)Permanent Magnet Synchronous Driver--More powerful and high torque;
(4)Screen Display Control System--Lower failure rate and easier operation;
(5)Dual Operation System--Guarantee no breakdown and continuous production;
(6)Integral Lifting Lug--Safe hoisting;
(7)Thicker Steel Plate--Strong and durable;
(8)Automatic Cutting--Higher cutting efficiency and effect;
(9)Inching Function--Convenient to find the wire saw joint;
(10)Automatically stop when cutting is almost completed--Manual control will work after automatic cutting stops.